One image...perceived !
As we know,
perception
plays a very great role in change. Whether it is from ourself or from that which the others return us, perception plays a determining role in our step for change. That is it which conditions the need, unfolding of it, the rhythm and the results. In regards of ourselves'perception, psychology recalls us that this one is feeding from the oneself's image that we developed and that we maintain throughout the events of our life. The manager does not make exception because before being a manager, he is primarily a person whose oneself's image forwards by perception that he has of his role. But only knowledge that he will develop itself will prevent him to pay an exclusive attention to his image. This exclusive attention could even influence its actions directly and bring him to be more concerned of his image and to prevent him, by the same occasion, to take a critical distance with repect to the results of his own action.
A fracture which has consequences
Insofar as the manager carries little attention to the improvement of knowledge that he has from itself, he will be more and more worried by the image he releases regarding others and, consequently, of the image that he is doing of himself and of its management
role
. His experience and his expertise will develop in conjunction to this image and the manager will become less and less sensitive to the influence that his personality will have on his behaviors. Fatally, he will seek to conform more to his image instead of to himself, convinced that his image represents him better. Under these conditions, it will be difficult for him to change and even to accept the need for changing.
He will also tend to draw from his former experiences in order to find, vis-a-vis a current situation, the solution which would have been adopted in a similar situation. In period of relative stability, this exercise can be advantageous but in period of turbulence, the new situations require a creativity that former experiences necessarily does not guarantee. From there to try to assimilate the present situation to a former situation in order to be able to re-use an already known solution, there is often only one quick move to do. Judging nonuseful to perfect his knowledge of himself, he will cut relevant information allowing him to knowing better his reactions vis-a-vis the change. He will preach the change for the others but he will feel not very concerned about it, convinced that his image will protect him and speak for him.
Readings's suggestions
Grimaldi, Nicolas.
Ambiguïté de la liberté
Paris. PUF, 1999. 171p.
Grimaldi, Nicolas. Ambiguity of freedom. Paris. P.U.F 1999, 171p. Small extremely relevant book as for the directions that can take the actions we are doing daily. However as the role of the manager is to bring people to be combined, within an enterprise or an organization, their efforts for the satisfaction of customers, that are the reason of being, there is, in regards of direction, an interesting reflexion to go on.

For information or comments, or if you are interested by a lecture or a workshop on this topic: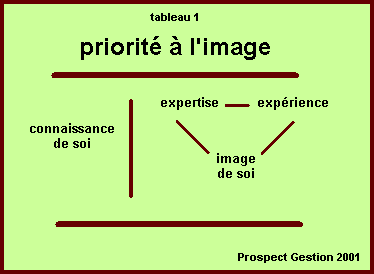 He will not proceed to the personal
integration
of his expertise and of his experience that only the close link between the image and the self-knowledge could bring to him. He will speak about the change but he will not be implied in the change. That is that situation which is represented in table 1. We can see that from the exterior, it is the image of oneself which prevails and that this one is feed primarily of experience and expertise. The self-knowledge is completely cut from the management role.
An integrative model
To the opposite, the manager worried by a better self-knowledge will quietly try to reconcile the image he is releasing from what he really is. Under these conditions, his experience and his expertise will be used by him as bases to perfect this knowledge and to integrate the image that he has of himself with his personality. This integration will lead him to carry less attention to what he
does
to have better interest of what he is. Thus, he will be receptive to the change because he will be more engaged in a " no-ends " process of discovering himself, that concerned about safeguarding of his image. The table 2 arises the close link that links then, the self-knowledge, the image and the integration of the experience and expertise.
Under these conditions, the manager can indeed become a model of integration primarily interested in the people that he manages rather than the actions that the latter must carry out. As Grimaldi write it its "Ambiguïté de la liberté":
(our translation)It is thus enough that we made ourselves indifferent to our image so that our action ceases to be, at once, mortgaged by the preoccupation of its result. As long as we had believed our character or our reputation to be engaged in each one of our companies, our image depended on their success or their failure. To act, it was to venture its image: to expose themselves, to risk themselves, deliver themselves. Though we take our action, we undergo it more since, the reacting effect on the cause, we became the result of our result. But since we are not controlled any more nor overhung by our image, our action is released from its result. At the same time, we are now as free for all as the duty orders us, and as available for the service of the world(p.161)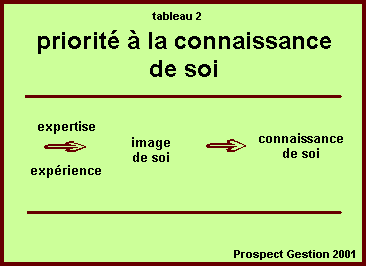 As a conclusion...
As any profession where the personality of the
actor
plays an essential role, management orders a self-knowledge that the experience and the expertise makes it possible to refine. If the manager, in the change's wirl, continues to pay attention to the activities that the traditional approach brings to him (to plan, direct, organize and control), this will be the image that he has of him that he will try to preserve at the expense of listening to and giving attention to the people. By ignoring himself, he will only be able to ignore the others, very worried, he will be, about the process of the change rather than about the reasons for its interlocking. By questionning himself so little on what the change makes him live, he will not have a tendency to pay attention to what the change makes the others live and will be, in the end, surprised to note that if the change is carried out structurally, the
attitudes
would remained the same.